By Isabella Perez on February 9, 2023 at 3:30pm
Vanguard University's Spiritual Formation Department has played a key role in the growth and development of student's faith and pursuit of Christ. Associate Campus Pastor Krystal Matthews reflects on the ways in which the Lord moved over the past semester and the year of 2022 as a whole.

She states, "One of the most exciting things about last semester was just seeing a lot of leadership rise up from our students."
Pastor Krystal expresses the collective goal of campus pastors as, "We're just looking for opportunities to connect students with opportunities to encounter Jesus." She goes on to mention all of the gatherings, events, and chapels that have been formed by our very own students who felt the calling of God to lead the next generation into these same encounters with God. 
When asked about the vision for 2023, Pastor Krystal lit up with excitement for what is in store. When asked about what the Lord has revealed for this new year, she says, "There's definitely a hunger on our campus for more of the Lord. Our prayer is to continue to empower students to feed that hunger, and to fan that flame." She mentions the word of the year is peace, with its roots coming from John 14:27 which proclaims; "Peace I leave with you; my peace I give to you; I do not give it to you as the world does. Do not let your hearts be distressed or lacking in courage."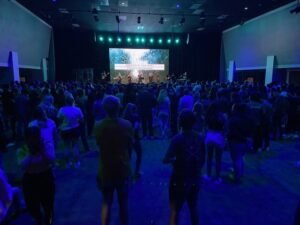 Pastor Krystal shared the inside scoop of chapels and new opportunities that are in the works for the spring semester. With 6 in-person and 3 online chapel opportunities each week, there is so much in store for VU students. She shares the new things that SFD will be introducing such as 'Fire Fridays' and 'Testimony Tuesdays'. Vanguard SFD desires to continue to be a resource to students, providing opportunities such as Pastoral Care where students can connect with a campus or local pastor for prayer and wisdom as they face life's many challenges. They also encourage students who feel called to tell their story to be featured on the 'My Story Matters' segment, by emailing sfd@vanguard.edu to get connected. 
The prayer and hope for the spring semester is to fan the flame and edify one another in Christ. Pastor Krystal closes with, "When someone asks me what my favorite thing about being a campus pastor is, it's this–every student here has the potential to reach so many people for the Lord." She adds, "There's this hunger and a movement of revival going on, my prayer is that students would tap into that."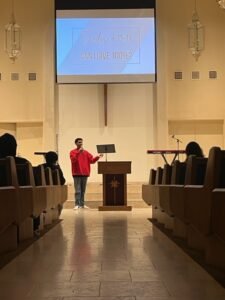 On behalf of VU SFD, be encouraged that the Lord is active and alive in each of your lives. Keep seeking him, and remember that SFD cares about the health of your faith, and they have so much in store to support you in just that.