A few days ago the President Joe Biden posted a graphic on his presidential Instagram, @potus, that stated, "Fully vaccinated people can go outdoors without a mask."
In the description he said, "Because of the extraordinary progress we've made in the fight against COVID-19, the CDC made a big announcement today: If you are fully vaccinated — and if you are outdoors and not in a large crowd — you no longer need to wear a mask." 
What does this mean for all of us? Would you take your mask off if you are fully vaccinated? Or does the mask that you wear make you feel comfortable?
Many of you are probably thinking that you didn't wear your mask outdoors or that you didn't go into large crowds. Or maybe you are feeling relief and heartbreak like many others.
When the nation-wide lock downs began, around March of 2020, all different types of masks were seen worn by almost every person in the United States. Masks were even incorporated into fashion and started to be produced by large companies. 
Many people are super excited to be within small groups, outdoors, and without a mask once they get their vaccination.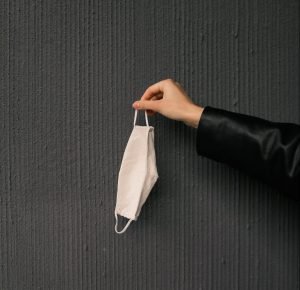 People have expressed that they actually feel more comfortable wearing mask now than to take the mask off. In fact, there have been people in the comments of President Biden's post saying that they would feel more comfortable to continue wearing their masks even being fully vaccinated. 
For others masks are annoying, irritating, and create bad acne issues. On the other hand, some people feel like this could be the 'new normal'. 
The implementation of masks at the beginning of the pandemic was questioned by many, and now the ability to take your masks off outdoors and in smaller crowds is starting new conversations. Eventually, there will be a new Instagram post stating that you can get rid of those masks altogether!
The question that arises is: do you feel comfortable to take your mask off in public places like around Vanguard University's campus? 
What makes you most comfortable? 
To wear the mask or to not wear the mask? What will you do if you are able to get vaccinated or chose to do so?