Intro.  
The prophet Jeremiah encouraged the people of Israel to listen to the words of the Lord and "to seek the peace (or flourishing) and prosperity of the city…" Although they were in exile, the Lord called them to seek the flourishing of their neighborhoods (Jer. 29:4-7).  
Have you ever thought about what it means to flourish? Over the past year and a half, I have worked with an interdisciplinary team of researchers from Vanguard on this question. More specifically, we have researched the factors that lead to flourishing among congregational leaders. 
In this article, I'll share some exciting developments in the social sciences on flourishing and some of the initial findings from our study.  
The framework 
First, let me introduce our research team. The team is made up of Dr. John Mark Robeck (Vanguard's Religion Dept.), Makaela Brass, BA (Sociology) and Zara Escamilla, BA (Sociology) and myself (Sociology Department).  
Secondly, let me introduce you to the guiding framework for our research. One of our key definitions of flourishing comes from Tyler VanderWheele, the co-director of Harvard University's Human Flourishing Center. VanderWheele and his team define flourishing as "a state in which all aspects of a person's life are good", or "complete human wellbeing."1  
While Scripture is clear that we will not have a state of complete wellbeing this side of heaven, we can each recognize moments or even seasons in which the different aspects of our life just felt good.  Maybe it was on a vacation when you felt relaxed and refreshed, or a moment of deep laughter and joy with family or friends. Maybe it was a moment of inexpressible worship during a church or chapel service. 
Returning to Vanderweele's model of flourishing, he and his team identified four clear "pathways" from the Social Sciences literature that can lead towards wellbeing: family, work, education, and religious communities or congregations. Now, it's important to clarify that these four pathways can be both empowering and powerfully harmful (e.g. painful divorces in families, unhealthy workplaces). However, when these pathways are functioning in a healthy way the evidence is clear that they can be effective avenues toward health and wholeness.  
Congregant leaders in one small group in New York 
The research  
Our research is focused on Vanderweele's final pathway of religious congregations. More specifically, we are focused on leaders in Christian congregations. Our international sample was made up of 48 congregant leaders from places as diverse as Bangladesh, Tanzania, New York City, St. Louis, Missouri and Upland, Indiana. 
All of these leaders are participating in an interdenominational initiative called the Sacred Roots Project.2 This project includes: (1) cultivating small groups of congregational leaders who are working in low-income contexts and (2) supporting these leaders with resources from the Christian Spiritual Classics.3   
Over the past year, we have used online surveys, in-person interviews and participant observation to gather data from these leaders.  
Findings 
I'll briefly share with you the findings from two areas in our research.  
The first is the sobering impact of the COVID-19 Pandemic on congregational leaders and their congregations. For example, 88% of our respondents noted that they had a family member or close friend die from COVID-19 or a related respiratory illness since March 1, 2020.  
On a related note, it was interesting to learn about the top sources of "trusted information on COVID-19" during the pandemic. While a majority of leaders noted that they got their health information from conventional sources such as their doctor or online news sites,4 the participants also shared that they got their trusted health information (information that they used to make health decisions) from another pastor (25%) or their barber/beauty salon (13%).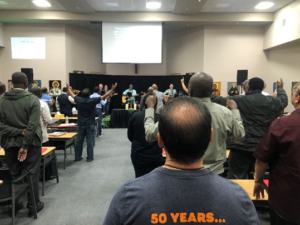 Worship at a Congregant Leader Gathering 
The second area was the impact of close relationships on congregational leaders. While the pandemic did disrupt interactions, the act of meeting in small groups was a key source of growth and transformation for congregant leaders. A majority of participants found that their congregant leader groups were a significant source of friendship and support (76%) and they plan to continue these relationships over the long-term (88%).  
This discovery is consistent with Vanderwheele's finding that close relationships are key to human flourishing. In other words, our research, and the findings from the social sciences in general, emphasize that if you are interested in flourishing than it's a good idea to intentionally cultivate the quantity and quality of your close relationships.   
This article has been a brief introduction to our ongoing research. In the coming year we look forward to continuing to identify ways in which congregational leaders can move toward faithful flourishing, "a state in which all aspects of [their] life are good."   
_____________________________________________________________________________________________
[1] VanderWeele, T.J. (2017). On the promotion of human flourishing. Proceedings of the National Academy of Sciences, U.S.A. 3149.
[2] For more information on the Sacred Roots Project visit: https://www.sacredrootsministry.org/ .
[3] Christian spiritual classics are books written by followers of Jesus to teach others about the faith. Authors range from St. Augustine to C.S. Lewis.  One such book is "The Pilgrim's Progress" by John Bunyan – the second most used text, other than the Bible, which was used by missionaries to evangelize to people in Africa. The book has been translated into over 120 languages.
[4] Primary sources included their Health Provider (50%) and Online News Sources – CNN, Fox (38%).