On September 7th at 4 p.m., Vanguard's veteran students and their new Coordinator of Veteran Affairs, Chris Caroll, opened the new Veterans Resource Center (VRC). The VRC is located in the Mahlone E. Layne building, in room 123. It offers a plethora of resources to veterans in need and study workers in the center are there to answer any questions students may have. The Veterans Club plans to offer campus-wide events, namely Fitness Fridays at 9:30 am. The VRC contains new workout equipment for all to use, and one of the current veteran students, a part-time CrossFit trainer, advises workouts.
The journey to having this new VRC was not easy, and many obstacles have arisen over the past few years in order for it to happen. This is the third location the VRC has had in the past three years. Last year, foot traffic into the Veterans Center was very minimal, with only a few student workers keeping it open. However, the first few weeks of this semester have shown vast improvement due to the location change. 
Chris Caroll muses that the old location under Huntington hall was too "off the beaten path" for students to find. Regarding the new location, Caroll shares that:
"Moving [the Veterans Resource Center] over here, putting it central to classes; I can sit in here for an hour and a half period and I can see people pop in and pop out in between classes, grab a snack, chat a bit, joke around and be able to be relaxed in between classes, and then head off to class again. And that's what's so amazing, is that that wasn't happening last year. People didn't go find us on the other side."
The VRC is largely filled with newcomers this year, but a few work-study students from the previous years remain. They have patiently waited for the veterans to have a new space, and have been working towards advocating for their unique student population. They remember what it took in order to get a better location for the VRC. A previous student by the name of Brian Stone dutifully worked toward increasing veterans' resources. He sat down with many prominent members of the Vanguard administration in order to be the voice for all the veteran students on campus. Sadly, this past July, Brian Stone passed away in a tragic car accident.
Chris Caroll and returning veteran students remember Brian fondly and respect all his hard work. He, along with current Veterans Club president Robert Buchanan, were the loudest advocates for creating more resources and space for veterans at Vanguard. 
Caroll states:
"I think it was really a lot of their advocacy that even put the idea that the space had to move in our senior leadership's mind. […] [Brian is] somebody that I don't think those conversations start happening if he was not the one pushing those conversations before I even arrived."
Brian Stone, graduating at the end of last year, would not have even reaped the reward of all his hard work. Only continuing veteran students would see the fruit of his labor, and Caroll believes this says much about his character: 
"I can't say enough about who he is because he's somebody who wanted to create greatness and there again, he wasn't going to take advantage, I don't think he expected any reward. I think he did it because that's where his heart led him to be. He wanted to make sure he left the veterans in a better place for those who came to the school after him… It's hard to talk about Brian."
Robert Buchanan, current president of the Veterans Club, and continual advocate for the Veterans at Vanguard comments that: 
"Brian was a fierce veterans advocate, who wasn't afraid to speak his mind in support of improving the military community on campus."
The veterans of Vanguard hope to honor Stone in some way this year, and even wish the new center could be named after him in some way. They also look forward to the coming year in the new Resource Center. The past few years have shown the need for a place veterans can have meaningful conversations.
Chris Caroll states that the reason why the center is needed is because:
"Veterans are a special community because– I went through a whole grads program on how to deal on college campuses, I learned on every identity there is, and for some reason veterans kind of are set apart from that because even though they carry all those other identities for some reason the veterans will carry that identity first and foremost. So, they are male, female, all races, all colors, but the first thing they see themselves as is a veteran because it's that sheer life experience that they are. So that's why a space like this matters on a college campus, sometimes you need to be with people who understand you and have that same identity as that first and foremost idea."
Military allies, veteran dependents, and anyone appreciative of those who have served our country are welcome to stop by and/or participate in the events that the Veterans Club will be hosting. Every Friday morning, at 9:30 am, the veterans work out with weights, a 400-pound tire, a sledgehammer, and an exercise bike– and all are welcome to join. They hope to partner with the athletics department in the future on exercise-related events. The VRC also hopes to host events showcasing the unique Military culture veterans have experienced.
Caroll explains:
"Our veterans are older, they have a different life experience, they have a different mentality, and being able to work with somebody that is different from you is important. This is another idea of diversity beyond some of the traditional ideas we have of diversity. That veteran status is actually another element of diversity."
Military culture is one that doesn't get highlighted often. Yet, here at Vanguard, we hope to bring light to this unique and integral part of our campus.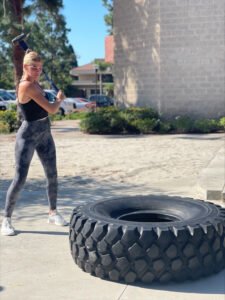 Veterans Deanna Riggs and Anthony Portillo Working Out, Fridays at 9:30 am. Photograph by Megan Luebberman.
Caroll's vision for this year's veterans is that:
"I just hope I continue to build the community. […] I want them to know they always have a place. That's what the center is about, is knowing that they have a place, that they have a community that they can turn to–of people that speak that language they know."
For any veterans out there; feel free to join! And for those that want to learn more, they welcome you. Honor those who have served your country and appreciate their experiences in protecting your freedoms. 
Stay tuned for events on Instagram @vu_vets.