Nevermind Album Artwork, 1991. Photo Credit: Kirk Weddle
Nirvana was a major influence on 90s rock culture and music, but in recent years, discussion on their influence has sparked the debate on whether or not the band is overrated.
On September 24, 1991, the band released what would become their most influential album: Nevermind. 2021 is its 30th anniversary; So, we can dive into how the album came to be so impactive on music and culture as a whole, and how Nevermind by Nirvana is one of the most culturally and musically aware albums in history.
As Nirvana grew in popularity, they became an icon for non-conformist culture and helped shape 90s youth attitude against social norms and institutions. Their influence clung mostly to the rock and punk crowds, eventually founding the "grunge" movement in culture and music.
Before looking into the album itself, one must ask: what is the definition of being overrated?
A generalized definition of being overrated: the artist does not have enough talent to be as popular as they are.
However, the concept of being overrated has commonly become far too mixed up with just being popular or influential. In order for an artist to truly be overrated, their popularity must outweigh their talent or authenticity.
Nirvana's Nevermind does the absolute opposite.
Photo Credit: Grammy.com
Kurt Cobain's unique songwriting form, along with the band's music style that was unusual for music at the time, played into how different they were compared to other bands at the time. The rock scene had just moved on from the hair metal wave, and a revival of hard rock and metal had begun to make its way back into the late 80s and early 90s… until Nirvana released Nevermind.
Distortion is one of the key sounds of punk rock, and has been since the 80s. It is usually added by connecting a guitar to a distortion effect pedal. The guitarist will then put the pedal on the floor and click it with their feet.
Distortion is often used on guitars to add a more raspy and chaotic sound to guitars; so, they were not used as much in mainstream rock music at the time. Most people strayed from effect pedals because they took away from the "natural sound" of guitars.
However, distortion was practically Nirvana's middle name. Cobain, who used about four distortion effect pedals in his career as a guitarist, used distortion heavily in Nevermind. "Smells Like Teen Spirit", "In Bloom", and "Breed" all have a major focus on guitar distortion, as it adds to the louder, heavier sound that the songs are going for. Not only that, but they add to what Cobain is conveying in the song.
The key way Nevermind is one of the most influential albums in history is how the band created a masterful relationship between sound and message. "Smells Like Teen Spirit", one of the band's most famous songs, does this really well.
In the song, Cobain sings about various themes of self-deprecation and depression. He speaks on how pressured he feels as an artist, feeling as though he must entertain audiences full of "teen spirit", and how self-expectation can lead to one's own demise.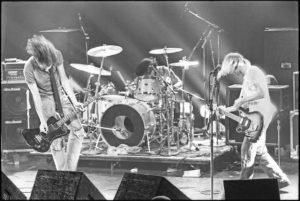 Nirvana performing at First Avenue, October 14, 1991. Photo Credit: Jay Smiley
"Smells Like Teen Spirit" is a major critique both on the music industry and Cobain's own heartache through a nihilist lens. The song's twisted nihilistic rage is emphasized through the loud, distorted chaos in the instrumentals. Drummer Dave Grohl plays loudly on the cymbals, and focuses more on attack in his drumming rather than complexity.
Even Cobain's guitar solo kicks up the distortion, playing mostly on high wavelengths to an almost screech-like sound. Krist Novoselic's bass riffs, while repetitive, are heart-pounding, and accent perfectly off of Grohl's bass drum.
This sound makes it feel as though even the instruments are shouting at us on the track, calling the listener to break out of the norms they are boxed into. As the song's opening track, "Smells Like Teen Spirit" calls their listeners to get angry.
The same goes for every other song on Nevermind, as they often convey raw emotion or social critiques to convey the band's views. Raw emotion plays a major part in the song "Breed", which is probably the most punk song on the album. The repetitive lyrics, blast-like beats, fast bass, and guitar riffs play off of Cobain's shouting to convey the same rage against society as in "Smells Like Teen Spirit".
One major social critique that is expressed throughout the album is toxic masculinity, and the band's social commentary on the male species as a whole.
In "Territorial Pissings", Cobain criticizes the treatment of women by men in society. In the second verse, Cobain shouts, "Never met a wise man / If so, it's a woman," expressing how he feels that men are too territorial and unintelligent to be wise.
In the chorus, he says, "Gotta find a way, find a way, when I'm there," to show how he strives to better society when he reaches a higher status. His commentary is very direct and straightforward, playing into the anger he has towards the male species.
Kurt Cobain, 1991. Photo Credit: Kevin Estrada
However, Nevermind is also diverse in tone and sound. Nevermind is extremely socially aware, and the band conveys it in such a raw manner. In "Polly", track six of the album, Cobain plays an acoustic ballad. The song is about a real case in Tacoma, Washington, where a fourteen-year old girl was abducted and raped by a man named Gerald Arthur Friend.
Cobain sings from the perspective of a rapist who is keeping a girl named "Polly" hostage. The entire song portrays vile actions the perpetrator takes on Polly, with the only instrument on the track being an acoustic guitar. The somber, eerie sound of the track plays into the song's concept, showing just how well Nevermind combines sound with theme.
These four songs perfectly represent what makes Nevermind such an influential album. Not only is it timeless, but it is the pinnacle of breaking social norms. Cobain himself stated that the band wanted to combine mainstream pop with heavier rock.
The album does this in a purposefully rigid, yet organic way. Song moods trample on one another, transitioning from loud outcries to somber ballads (although these are rare). It perfectly encapsulates the Nirvana sound that has become so well-recognized. Nevermind uses the same platform that allows pop music to become so radio-friendly, but allows the band to send their messages and rage-like themes like that of punk rock in such a straightforward way.
This same album structure and style would soon explode in the music industry, creating the "grunge" movement both in popular culture and music itself. Soon, Nirvana spawned bands such as Soundgarden, Alice in Chains, and many more.
Variants of Cobain's raspy vocals, distorted guitar, Novoselic's reverbed bass riffs, and Grohl's metronomic yet crowd-raging drums began to rise. The stylistic form of Nevermind can still be heard in different genres today.
The past nu-metal music genre, popularized by bands such as Linkin Park, System of a Down, and Disturbed, had many of the same qualities that Nevermind was known for. Even the pop punk wave of the early 2000s had similar qualities that grunge popularized. Nowadays, these same influences have become so deeply rooted in rock that grunge has become more of a musical and cultural aesthetic more than a movement itself.
Distortion effect pedals for guitar, punk-influenced instrumentals, and lyrics directed towards social issues became widespread in rock subgenres with Nevermind's release. The album may not have been the first to do this, but it was the first to make it worldwide.
If Nevermind hadn't been released or stylized in the way it was, rock would not be the genre it is today.