This year Vanguard University is having it's very first Christmas Tree Lighting! The event is set for December 3rd, from 6:00-8:00 pm on the Health Lawn. All students, student's families, faculty, staff, alumni and donors are welcome to kickstart the momentous Christmas season by celebrating the birth of Jesus Christ with us!
Laura Capo, the Director of Student Engagement and Development, has been working to share this important event with us for about four years, since she came to work at Vanguard. Now that her idea has finally come to fruition, we can all come together to enjoy the event and season. 
Capo explains that the event includes holiday treats, in the form of cookies and hot chocolate, as well as several photo opportunities for the family. Before the performances begin at 6:30, and after the Music Department is done performing, there is time to mingle and enjoy the holiday atmosphere. Several vignettes will be placed around the school as backdrops for photos. There will also be a Christmas tree next to the fireplace on the terrace of the Waugh Student Center to pose with.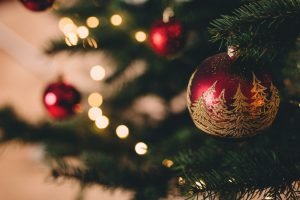 When it is time to start the music performances, there will be a musical overture played, along with the sound of a trumpet to signify the start of the celebration. 
Capo said,"I think coming out of covid we're looking for ways to bring the community back together, that are meaningful," She continued, "Think of it a little bit as a concert in the park."
Everyone will be on the Heath Lawn, and are encouraged to bring their chairs, blankets and anything else cozy as they watch the Music Department's performances in Judkins Courtyard. The Christmas Tree will be upstairs above the choir on the terrace. 
The Music Department has several songs planned, including classics such as "Silent Night" and "We Need a Little Christmas". Some songs will even be sing-along songs, so that everyone can participate in spreading Christmas cheer. 
Capo explains that in between the songs, there will be some readings of the birth narrative from Luke,"Think of it as a Linus moment, in the Charlie Brown Christmas."
To crown off the entire evening, the large Christmas Tree above Judkins Courtyard will be lit with a countdown. 
As a final thought to what the real purpose and meaning behind this event is, Capo said,"I think just bringing community together and celebrating the birth of Christ, just having that shared faith in the real true meaning of the season. I think it's super important as we get into the habit of the busyness—just a pause—just to be a reminder of what we're celebrating."
So Vanguardians, come celebrate Christmas with us and ring in the season by remembering the real reason for the season: Jesus Christ!
Make sure to RSVP for this free event, including the numbers of guests you'd like to bring, at: Vanguard.edu/Vuchristmas