This past semester has been eventful for Vanguard University. The Office of the Provost announced Spring Break would be moved to the beginning of the semester — this shocked students. Now that the time has passed, we can see how students and professors alike were impacted by this motion.
Students are used to Spring Break in the middle of spring semester. It is safe to assume that this change would affect students. Associate Dean of Education, Arts and Humanities, Dr. Warren Doody said, "Even though I don't normally take the whole week of Spring Break off, we're sort of programmed to look forward to Spring Break. It's something people look forward to. It's an opportunity to travel, catch up, or simply rest."
This rings true for many students. Once that week changes, students face a lack of mental drive. When asked whether or not having Spring Break affected her, freshman student Emily Renteria said, "Slightly yes because it was supposed to be after midterms, so going from midterms straight into the next quarter felt a little overwhelming."
Students tend to wear down as the semester ends. Renteria went on to say, "My work ethic was a little impacted because I felt drained."
Various students shared that same feeling. To many, it is not just a break from classes, but a recuperation period before having to dive straight back into studying.
Dr. Doody touched on this as well, giving students in his Travel Writing class a week off in order to recuperate. "I decided to give students a week off of class in Travel Writing as a trade for better writing instead of people turning in half-baked work," he said. To Dr. Doody, when students are given time to rest, they produce higher quality work than if they bulldoze through assignments.
Junior nursing student Marisela Martinez stated, "Spring Break is quite literally life-saving for me. Last semester, I began my first semester of nursing school which was the most difficult thing I've done. If you look at my transcript, you'll see I did well academically – maintained all A's."
However, Martinez also mentioned that her transcript neglects her mental health. "School and work required so much of me, that I ended up neglecting my mental health and pushed it aside. I figured I can take a break when school was over," Martinez continued.  "Before we even reached Thanksgiving Break, I was having break downs every day and crying from pure exhaustion – something I hadn't experienced before."
She went on to say that Thanksgiving Break gave her the freedom of pausing school and being able to spend time with her family and the Lord by praying, "Spring Break, similarly, allowed me to just catch my breath and take time to spend more time with my family and the Lord, and essentially reset before having to go back into something so demanding."
Even though Marisela did receive a Spring Break as part of the nursing program, her depiction of it acting as a time to breathe and reset is shared among students who didn't get that chance. Due to these reasonings, many students feel that moving Spring Break to the beginning of the semester was a poor decision.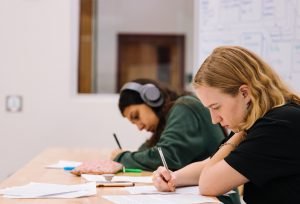 Spring Break is different from Thanksgiving Break because spring semester has fewer holidays than fall semester. Spring Break is the only significant break students receive during spring semester. So students look forward to Spring Break more because of how much longer the semester seems. Students don't just carry the weight of the incoming spring semester; we also carry the fall semester that had just finished as well.
As a Christian university, Vanguard teaches students to invest God into school and regular life. So, when school piles up to the point where we need rest — that time is taken and students' mental and spiritual health weaken.
When asked if moving Spring Break was a good or bad decision, Emily Renteria responded, "I think it was a bad decision simply because it is important to have a break at the halfway point so we can focus on Christ during the Holy Week as well as get a break from our studies. That way, for the second quarter we are able to start fresh and energized again."
It is not surprising how much push-back this decision by the Office of the Provost received. When it was announced on Vanguard's Instagram page that Spring Break would be moved, students and parents flooded the comments. They brought up how it is not just a break from classes, but a time for people who struggle with their mental health to heal themselves before the rest of the semester. And that is true. Students, especially at this age, require time to recharge after eight to ten weeks of nonstop schoolwork. Distanced learning is also a product of this, as students have been known to be more fatigued working from home than on campus.
The Vanguard University Instagram account, @VanguardU, shortly disabled comments on the post after the influx of comments, and now the post is no longer available on their page.
"I think it was definitely a difficult decision for administration to make, but I truly believed they had good intentions behind it," Martinez stated.  "In practice, I don't believe moving Spring Break to the beginning of the semester was a great idea. In theory, getting rid of it would minimize the amount of COVID cases on campus by minimizing travel, but the numbers are just about the same as last semester. The only thing it did impact was students who were really dependent on that break to reset themselves. I believe moving Spring Break didn't help minimize COVID cases at all. It's really dependent on the students to act like adults and minimize the spread."
The Office of the Provost mentioned in an email to students before Spring 2021 semester that Spring Break was moved in attempts to decrease COVID cases and interactions.
It's debated whether it was the right move, as Dr. Doody responded to this situation. He felt the Office of the Provost looked at this decision from every angle, and weighed the options heavily before making their decision, "Right after the New Year, we were hit with a surge of COVID cases and hospitalizations. Given those circumstances, I think they made the right decision. At week eight, it would've been nice to have that break, but I appreciate administration's concern for our safety."
Renteria agreed that moving Spring Break fulfilled the goal of minimizing COVID-19 spread. To her, it was understandable given the COVID pandemic and was the best option health-wise.
In all, the decision sparks debate. But, minimizing the spread of COVID falls into the hands of the Provost, professors, department heads, and students alike. It's up to students to hold one another accountable, and stay safe. Social distancing and mask-wearing are where the university has control in minimizing potential spread.
Spring Break's removal is still questioned, as students suffered with the lack of a break. The best one can do now is to look forward in that we don't lose another break in the future by lessening the spread and maximizing our control over it.