Vanguard University clubs have seemed hidden over the past year, but there is an organization that took a rise among this year's silence. Students opened a chapter of Delight Ministries in 2020 fall semester despite the challenges. Delight leaders are using this opportunity to encourage and support young women on campus.
"We were very hesitant to start this [club] while doing remote learning because we were afraid that nobody would come," says Sophomore Allina Pacheco, Event Coordinator of Vanguard Delight. "But God has been so good and so many girls are a part of this Delight community."
Delight reaches out to girls at Vanguard for bible studies on Monday nights. For Pacheco, this is a way to connect despite Zoom challenges. Her main goal is to, "make a space where women feel comfortable, encouraged, and loved on while sharing their struggles and sharing their faith."
Junior Leah Gates, another leader of Vanguard Delight, appreciates this chapter of Delight because it helps her, and other girls, become more disciplined when reading the Bible and connecting with God.
There are also 'Delight Dates' where participants have a one-on-one virtual chat with a leader. Gates explains that leaders get coffee or simply chat through Zoom if the attendee isn't on campus.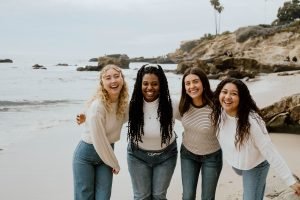 Freshman Shae West is one of the many attendees since the Fall semester and has enjoyed all of these activities, "the girls who lead and the girls who attend are so uplifting and encouraging," West says. "It's been a serious blessing in the midst of online school."
Zoom challenges can get in the way, so the leaders have created a pattern of communication with their participants. After reading a chosen section of the Bible, they separate the girls in breakout rooms to discuss and ask questions. This way, they can help them apply the reading to their lives.
"We're getting to know the girls we are surrounded by and they stop becoming random people in a box on a screen, and instead people," West explains. "Real human beings that we get to interact with."
Vanguard's Delight chapter is one of many university chapters apart of this nonprofit organization. It starts with Delight Ministries: a nationwide organization that leads many college campuses to direct their own Christ-centered chapter.
Leaders from Delight headquarters reached out to Vanguard's chapter. They asked the president of Vanguard Delight, Sophmore Madison Morris, if she was willing to continue an impact to women on Vanguard campus. Soon, they will continue this impact in-person with arms wide open.
"We are very thankful that Maddi took a leap of faith to start this on our campus," says Pacheco. "And we have been with her from the very start."
"I am so glad I joined," West says. "I have created so many friendships and I have grown so much closer to God because of it!"
God continues to move and has helped these ladies create a foundation for other women on Vanguard campus. They are sure that God will keep moving in this new chapter of Delight Ministries. Vanguard Delight is ready to receive all young ladies looking for a safe space to grow deeper in faith with the Lord.