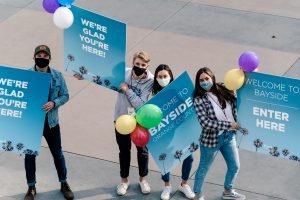 Vanguard campus is slowly opening for students, but one event is a source of light to our campus silence. Bayside Church has moved to Orange County for the first time this past year and is ready to welcome anyone. They have live services every three weeks on Sundays at 10:30 Am in the Waugh Student Center, but there are online services as well.
In strive to follow God's plans, Bayside was able to find a place in Southern California after being in Northern California for the past 25 years. They have opportunities for anyone to join; whether you may be a believer or non-believer.
The big question: how did they get access to campus space? Bayside simply has a great relationship with the leadership teams at Vanguard. Pastor Tyler Swaney and two other pastors, discovered that Vanguard was the best place to "partner in ministry."
After a prayerful journey, they saw that "many of our values align such as: reaching and discipling college students for Christ, unleashing compassion in our community, training up the next generation of leaders, and more." This created a new vision for several leaders to bring in college students into the fun.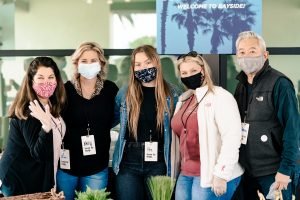 Some may remember Bayside Orange County from Vision Night that was held in September. According to Freshman Alyssa Saylor, one of the pastors asked her if she was interested to join Bayside.
"I was hesitant until I heard the worship music from where I was originally sitting," says Saylor. "Then I knew I needed to be there."
As a Vanguard student, Saylor appreciates the fact that Bayside is such a close distance. It reminds her of home and gives her a sense of safety after moving from Alaska. Along with this, she is able to participate and share with the community by entering a team.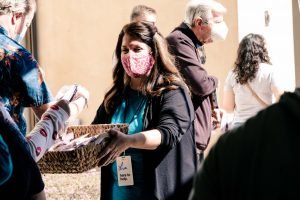 For Pat Kishi, head volunteer of Guest Relations Team, the core team serves a great part in sticking together and helping the pastors grow the church. All it requires is a person to be interested to help out. There are teams that serve in worship, welcome people, or even hold signs out on the streets for people to see.
"We'll reach out to you and make sure you get connected," says Megan Stewart, a Core Team Member. "The teams meet once per month online and each team lead has their own training. It's fairly simple on purpose!"
Kishi also explains that students can text Orange County to 56316 for more information. "We welcome everybody. Everybody needs Jesus. Especially during this pandemic," and it's best to stay connected.
But like every organization, Bayside has an incredible story of its planting in Orange County.
While Bayside was up North, Sandy Davis, a fellow attendee, moved down to Orange County. With her love for Bayside, she decided to set on a single desire: If only Bayside would move down to Newport Beach. Despite of how impossible it seemed, her faith was stronger.
"Part of my prayers for Bayside since then is for it to be a church that gives God glory," says Davis. "I have felt for a long time that Bayside being in Orange County was birthed in the heart of God, and that He is doing something that we can't see yet."
Davis prayed for ten years and God let Bayside finally end up on Vanguard campus. Certainly, Vanguard was not part of their plans, but God had His ways of reaching out to those that need Him the most. And it all just feels right for Davis and her vision for Bayside.
"My prayers over the years was His way of working to do what He wants to accomplish," Davis says.
And Bayside still stands with Vanguard ready to obey God's orders. Despite a bumpy pandemic road, this church has still kept an open arms policy to newcomers — just as Jesus has done with them. Everyday, they learn and grow together for His glory.
"This new, exciting, developing, multi-generational church has had a consistent 200 to 300 in attendance, 100 of whom have jumped in and now serve on one of our thirteen ministry teams," explains Pastor Megan Hutchinson. "And that's during a pandemic! Imagine what God has in store when the doors are able to swing wide open!"
Nevertheless, no matter what God has fixed for Bayside in the upcoming months, it's set to hopefully create a close connection with Vanguard, and touch hearts of their students. Soon enough, Bayside Orange County will be able to have more live services at the Student Center.
"God prepares the plans way before we know what's coming," Stewart reassures.
"You will not want to miss this but even more importantly, you will be so glad you came, for you will be seen, noticed, and cared for," says Pastor Hutchinson. "Pinky promise!"