These past few months have seriously turned and treated each person differently. One of the many questions often heard is about the spiritual world. For some, the thought of a person above us has not changed at all despite the circumstances. Others may have had a shift in their spiritual perspective, or have forgotten where God is. The idea of God can be hard to grasp. But several Vanguard students decided that it's best to think of God now more than ever.
A common among a few Vanguard students is that God is just too powerful to comprehend. The idea of a person that is above it all can either be daunting or confusing.
"Currently I am still on the journey trying to figure out who He is and how He is trying to cultivate the person I'm going to be," says junior Justin Love. Despite his "push and pull" journey, God still seems to give him a sense of hope that there will be brighter days.
As a transfer student, Love felt spiritually shut down because he didn't know a lot of people at Vanguard. "I didn't get enough socializing, exposure to chapel experience, or time." Doubt overwhelms people around the world, but there must be an "optimistic approach."
Freshman Noami Hogan explains that God is a perfect being. But even though we are so small, "every detail of life is so orchestrated and important by God." She explains that God has "so much more for us." No matter how bad the world may seem now, we can sit back and look at what God has planned.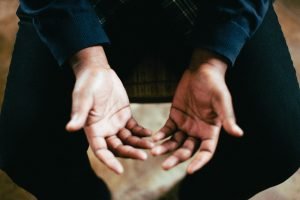 At times it could be a difficult task to keep such a powerful person in mind along with daily activities. But for sophomore Kevin Vitwar, "God is always there when you need Him so whenever you're in need, you can just talk to Him about it."
Although, the big question is how to understand this when so many unfortunate events keep happening. It will be the first year since COVID-19 shut down the world. Part of this major shut down would be limited chapels or even the spiritual world.
"Things were put on hold, and certain dreams and passions I had were taken away," sophomore Brady Needles says. "It created this opportunity for God to help me find a new path." While most of his plans have paused, Needles took in the time to discover a new person within himself.
It's possible to have uncertainty creep in. But what is it that keeps this faith on the rise? Where does that rest come from after all this heavy lifting?
The answer goes back to the beginning: God. In the end, oneself has to be responsible for connecting with God because, as Vitwar said, He is "a loving father that cares for us and wants to have a relationship with us."
But, the solution to all struggles as large as this one is the right person.
The right person or group of people will eventually help the load be lighter. Staying in community will keep faith on the rise rather than letting the world bring everyone down. No matter how far God seems, together it is possible to get a grasp of how good He is.