Valentine's Day is always met with mixed opinions. Whether you think it is an important day to express your love for your significant other, or you think one should treat their significant other like royalty all days of the year, it's often met with unease.
For some, seeing the emotional expressions that people do for each other on Valentine's Day can be a downer. Bottom line, it's not for everyone. But you know what is? Treating yourself to a day of self-love. So, here are some date ideas both for couples and singles you can do around Vanguard – even during a pandemic:
Beach Date at Newport Beach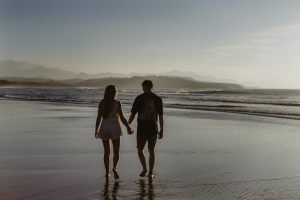 Newport Beach has a lot to offer. It is my personal favorite beach in the Orange County area, and the shops nearby add to its atmosphere. A coffee shop, a 24-hour donut shop, and some fast-food places are just a small walk away from the pier.
Pack up your backpack with a Bluetooth speaker, towel/sheet, and something to drink and you're set! Whether you do this alone or with that special someone, it's definitely a peaceful experience. Looking up at the stars and listening to some peaceful music while the waves crash in the distance takes the edge off of the COVID lifestyle we're used to.
(Don't forget to distance yourself from others, but that goes without saying.)
Picnic at the Park
Costa Mesa is home to a handful of parks that make for the perfect picnic spot. TeWinkle Park is one of them. So, grab a quick bite to eat, or pack up a picnic basket (if people still use those) and head to a park!
It may seem old-fashioned, but relaxing in a park while baby ducks walk by helps you forget we're in the middle of a pandemic. Taking either yourself or your main squeeze to eat and chill in a park is becoming pretty popular (according to my mutuals on Twitter, that is).
Besides, people appreciate old-fashioned gestures like this. Take it a step further and bring one of those retro TV phone projectors from Amazon to watch a movie or two!
Mini Movie Night with a Mini Projector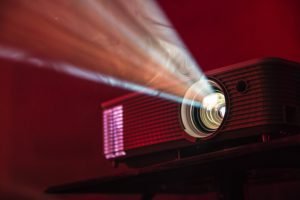 Maybe going out on Valentine's Day is not your thing. Maybe you, or your significant other, don't want to deal with reservations, or driving in congested Costa Mesa traffic to the beach.
Instead, how about finding a nice wall in a dorm floor lounge, the Towers lobby, or just about anywhere (walls are pretty common to find). Then put a mini projector on display to watch a nice movie or binge a series! After all, our very own Karla Velez put together a pretty good list of shows to watch!
Shopping Trip at the Irvine Spectrum
What if dinner, the beach, a park, or a mini movie isn't yours or your significant other's vibe? (If that's the case, you aren't giving me many options here). How about stretching your wallet a bit and treating your significant other to a mini shopping spree at the Irvine Spectrum Center?
If you don't have a Valentine, treat your self for crying out loud! Your wallet knows that you deserve it, and there's something for everyone there. Barnes & Noble, the Disney Store, various clothing and jewelry shops, and restaurants are all in the Irvine Spectrum Center.
They have a Hello Kitty coffee shop there too (don't worry if that's your thing I won't judge). So, if you prefer to show your love (whether it be to your gal/guy or yourself) with your wallet than with a gesture, then the Irvine Spectrum Center is for you.
The LAB Anti-Mall
How about for down-to-earth folk? Or people that hate crowded places? Costa Mesa's anti-mall is a nice replacement for the Irvine Spectrum Center if you feel uneasy about going to such a populated area (especially with COVID being a factor).
Similar to other shopping centers, The LAB has clothing stores, small-scale food spots, and salons. But, what sets it apart is its record store "Creme Tangerine Records" and art gallery "The Artery". So, if you have a love for the arts, this could be the place for you on Valentine's Day.
Valentine's Day is not the most inclusive holiday. The way it's marketed makes some people think they have to be in a relationship to celebrate it. But it's a day for love, and self-love is one of the most important types of love there is.
Whether you are a couple looking for an easy way to have a good time this Sunday, or someone who feels like it's time you start treating yourself better, take one of these ideas and go celebrate!