How A Father Is Taking Steps to Warn Californians About The Dangers of Fentanyl
By Hayvyn Smith
Fentanyl, Apache, Dance Fever, Friend, Goodfellas, Jackpot, Murder 8, Tango & Cash. All the names of a popular "synthetic opioid that is up to 50 times stronger than heroin and 100 times stronger than morphine",says The CDC, making it the most major contributor to both fatal and nonfatal overdoses in America, and the No.1 cause of death of Americans 18-45. These types of synthetic, illicit drugs do not come with an ingredient list, making it for doses of fentanyl to be a deadly amount. 
Fentanyl "has killed more Americans than World War II and the Korean and Vietnam wars combined — is a threat to national security." (The OC Register)This drug has affected many lives including  a  man named Jim Rauh has been battling a personal fight against fentanyl ever since it took the life of his late son, Thomas Rauh, in the year 2015. Although devastating, Jim has since used this tragic occurrence to do something good that will cause more awareness to fellow Californians, or anyone driving through California about the dangers of fentanyl. 
His family has since formed a non-partisan and non-profit organization called "Families Against Fentanyl", or FAF, that has gained attention from very high profile people within Homeland Security and The CIA. Rauh has also taken a huge step here in Southern California, and although being from Ohio, he  chose to aim a lot of his work in California. 
This is because the state of California is ranked No.1 in the United States for fentanyl related deaths in 2021, and "the deaths of teens nearly has tripled between 2019 to 2021"(FAF). Freeways  in Orange County , as well as Los Angeles counties now have billboards displaying messages regarding fentanyl from FAF.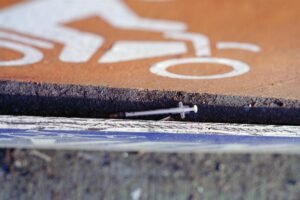 You can even see one of these for yourself on the 57 freeway near Orangethorpe Ave, in Placentia, CA, the 10 freeway in El Monte, the 5 freeway in Commerce, and the 710 freeway in Lynwood. They are also going to be introducing these billboards to the Inland Empire as well. There next project includes adding these billboards in Riverside and San Bernardino Counties very soon. 
Billboards aren't just for the people to be aware, they are being used to also get the attention of our government. Jim says in an interview with The OC Register that, "The reason we're doing this is to get the attention of the U.S. government." (The OC Register) California is known for having a huge voice and role in the political arena, and this is why Rauh wants to rally as much support as possible. 
As of April 7th, 2023, over 48,000 people have signed a petition to persuade and try to convince the American government that fentanyl should be declared as a weapon of mass destruction, but so far efforts made by Californians and its law enforcement .
They have failed to get legislators to pass any laws that hope to hold fentanyl dealers accountable. These rejections included a a bill curated by the Senate Public Safety Committee called Senate Bill 44 or "Alexandra's Law", that was dubbed this name after a California resident and college student , Alexandra Capelouto passed from ingesting a fake Percocet laced with fentanyl in 2019."The bill would have required courts to issue warnings to convicted fentanyl dealers that the drug is deadly, and, if they continued selling it and someone died, they could be charged with murder". (The OC Register)
This bill had 41 co-authors coming from both sides on the political street, and it was deemed "Inhumane and Futile", by the Senate even though it was being heavily advocated for during its hearing on March 28, in Sacramento. 
Since then, Rauh has luckily been able to seek personal justice within the midst of defeat, filing a wrongful-death lawsuit alleging that a drug dealer who had  shipped his son the fatal drug that took his son's life. Jim Rauh was able to get his lawsuit, and is awaiting a pending  decision to determine his rewards for the damage caused. 
To support Jim Rauh and see updates on his journey with  battling fentanyl  and all the billboards across California, feel free to visit https://www.familiesagainstfentanyl.org